One of the questions I get asked all the time is, "Did you plan your own wedding?". Yep, I sure did. Was it easier for me because I do this for a living?
HELL NO.
If anything, I would say it was harder. There was so much pressure to have the "perfect" wedding. "It's going to be the wedding of the year!". "Your wedding will be PERFECT!".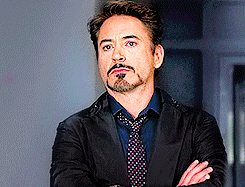 Like any other bride, I had a budget. I had a fiancé who had his own ideas and tastes (which did not always coincide with mine). And to be honest, towards the end, I started losing sight of what this day was really all about. I was so caught up in all of the details, the pressure, and what still had to be done. It wasn't until about the week before the wedding that I finally put myself in check (after I had one last mental breakdown, of course).
Fast forward to the day of the wedding. I spent a good part of the morning with my Maid of Honor, Jessica. She's my person. She made sure I had my Starbucks and drove me to the wedding venue. We settled in, hung up my stunner of a dress, and I started my day the most calm and collected I had been in months. I've seen this with so many of my brides. In the weeks leading up to the wedding, some brides get so stressed (over nothing I might add, because they hired me!). But then the day of the wedding, they are surprisingly cool. Most have that "What's going to happen is going to happen" attitude. And I was no exception. I gave all my stress to my dream team and I got to thoroughly enjoy my day with my girls. I was a little too calm, I think. It almost didn't feel like my wedding day. I have been to so many weddings, and seen so many brides getting ready, that I kind of felt like it was any other Saturday for me.
Until they all left me.
Alone.
In the suite.
By myself.
The coordinator had taken them to the ceremony site to line them up for the processional. They didn't want me to be seen, so they left me in the bridal suite until the very last minute, when they would shuttle me to walk down the aisle. I stood there alone, in silence, finally FEELING what was about to happen. It wasn't until that moment that I truly felt like a bride. And as nervous as I was, this was the best feeling.
My bridal party and I walked down the aisle to "Stand by Me", by Ki:Theory. I had heard it on an episode of Fear The Walking Dead, and I instantly knew it was the song I wanted to walk down the aisle to. It took a bit of convincing, but Tony finally agreed. It was pretty bad ass and you can listen to it here.
My Dad hadn't seen me until seconds before we walked down the aisle together. His reaction was priceless and one I won't forget. We walked arm in arm and I finally got to see it all. My friends, the gorgeous decor, and
The Groom.
Tony and I had been together almost 8 years at this point. We decided not to have a first look, as we wanted to have that "magical" moment. There was something so different about him. Something I had never seen, or felt, in those past 8 years. I can't say exactly what it was, except for the fact that he was about to be my HUSBAND.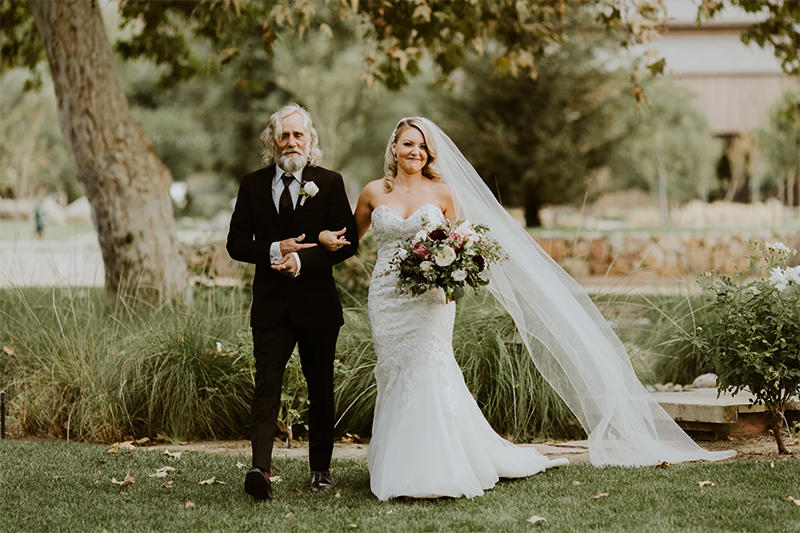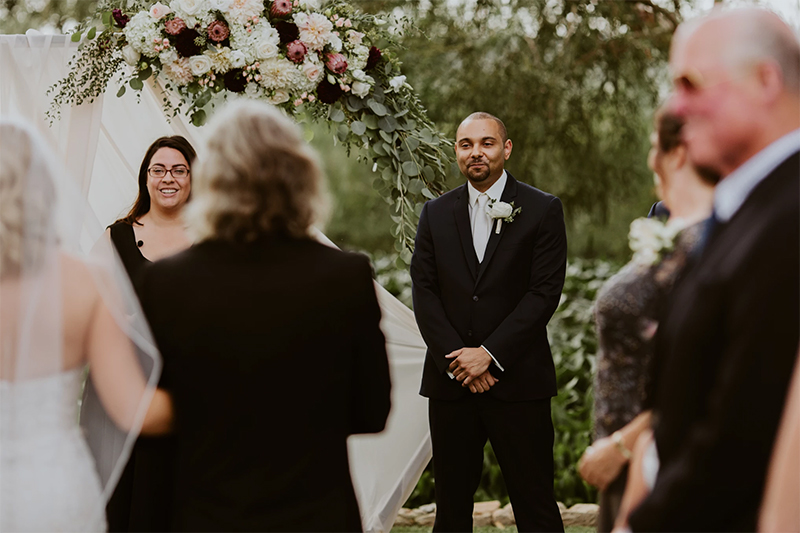 Our Officiant, Marie, wrote custom vows for us. She took the time to get to know us as a couple, and as individuals. She kept a little part of the ceremony a secret, so that we would be surprised on the wedding day. It was exactly what we wanted- heartfelt and a bit comical. We wanted our friends crying with joy and laughter. We later heard that there were pretty much no dry eyes in the house.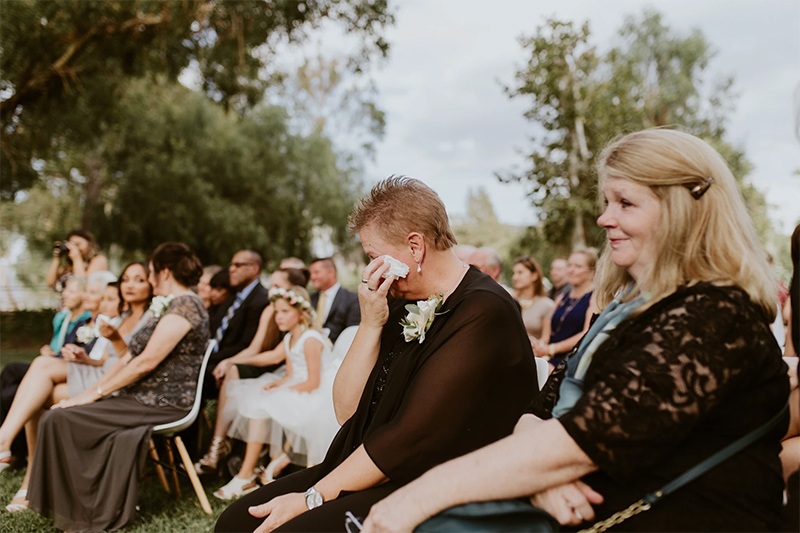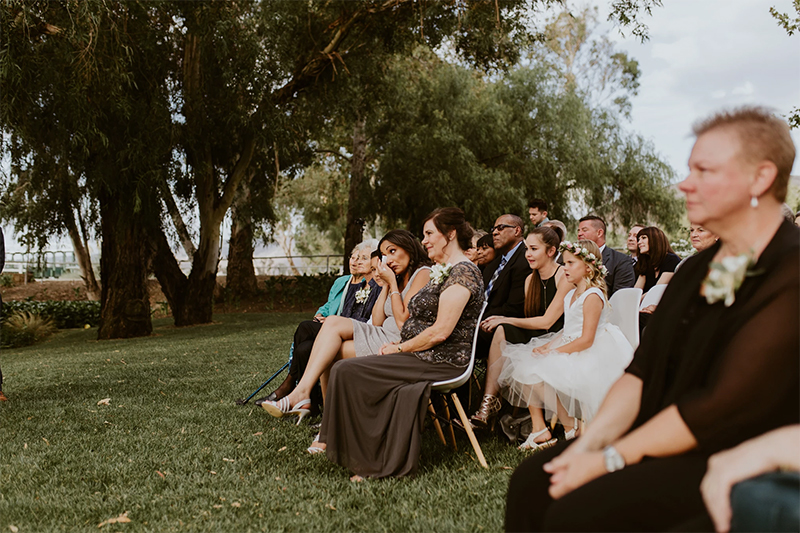 We chose a sangria blending for our unity ceremony. Sangria has always kind of been our thing. We had both red and white sangria from Miramonte Winery, which we are members. They call it a 2Pac. If you haven't been there to try the red sangria, drop what you are doing and GO NOW.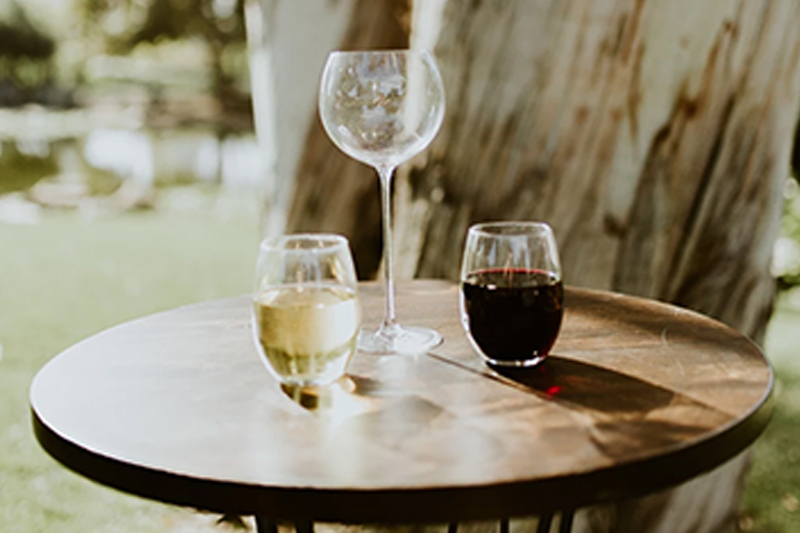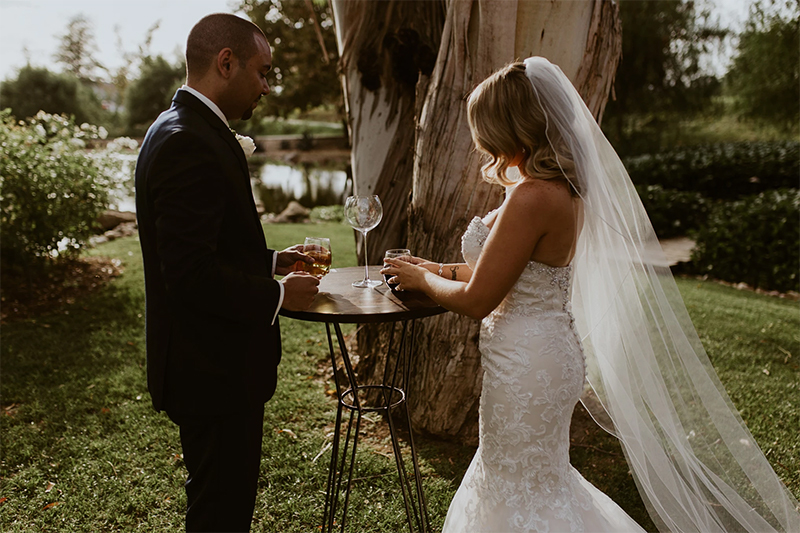 The moment we were pronounced HUSBAND + WIFE, I was flooded with emotion. That will forever be the happiest moment of my life.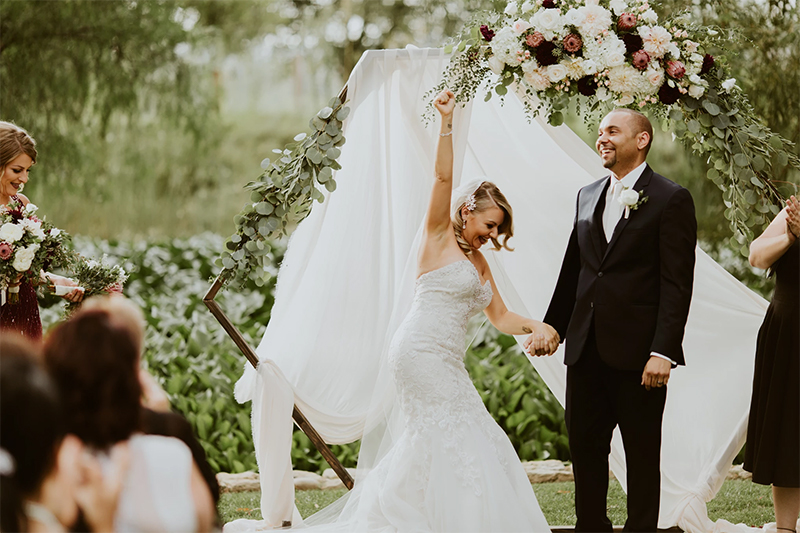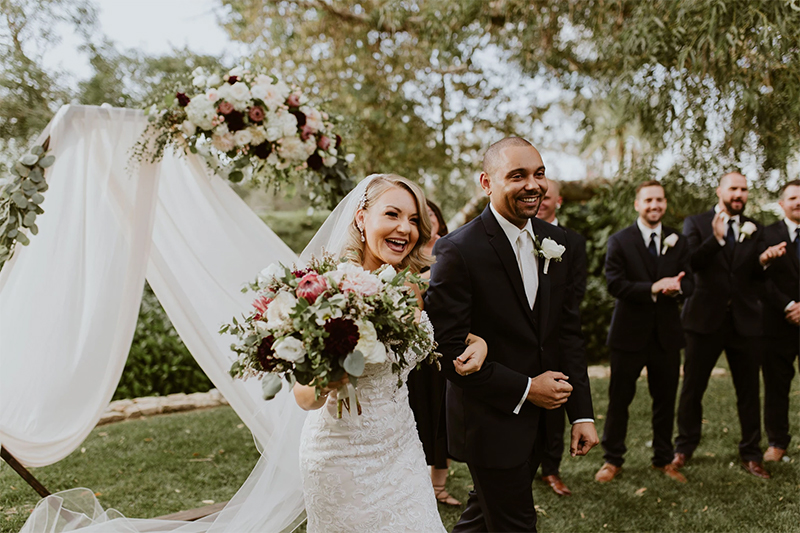 For our first dance, Tony and I chose "I Don't Dance", by Lee Brice. I'm pretty sure that song was written about Tony and it was the perfect fit. I remember being a bit nervous for our first dance, as all eyes were going to be on us. But as soon as it started, I thoroughly enjoyed the moment with my Husband.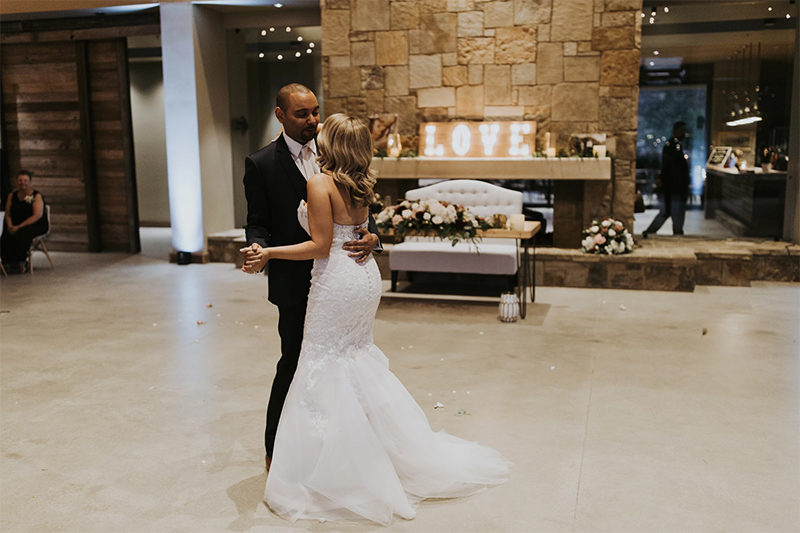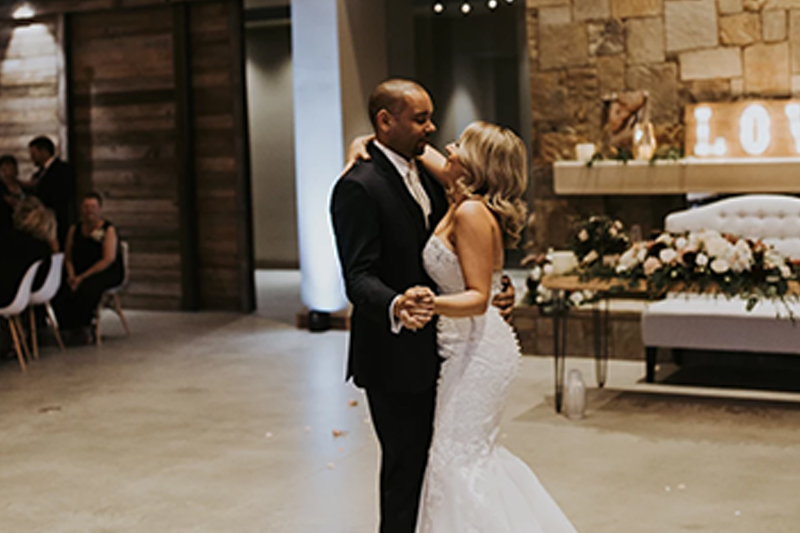 For the Father + Daughter dance, I chose "Sweet Child of Mine" by Guns + Roses, which perfectly suits my Dad's style. The DJ and I planned to surprise my Dad halfway through the song. When I was a kid, my Dad and I used to listen to Metallica together. When I asked my Dad what we should dance to at the wedding, he jokingly said Metallica. So right as we were in the middle of our dance, Austin screeched the song, had some "technical difficulties" and then started playing "Enter Sandman". My Dad and I rocked out for a few moments, and I swear, it is the happiest I have ever seen him. My Dad plays a pretty mean air guitar. It was freakin' sweet.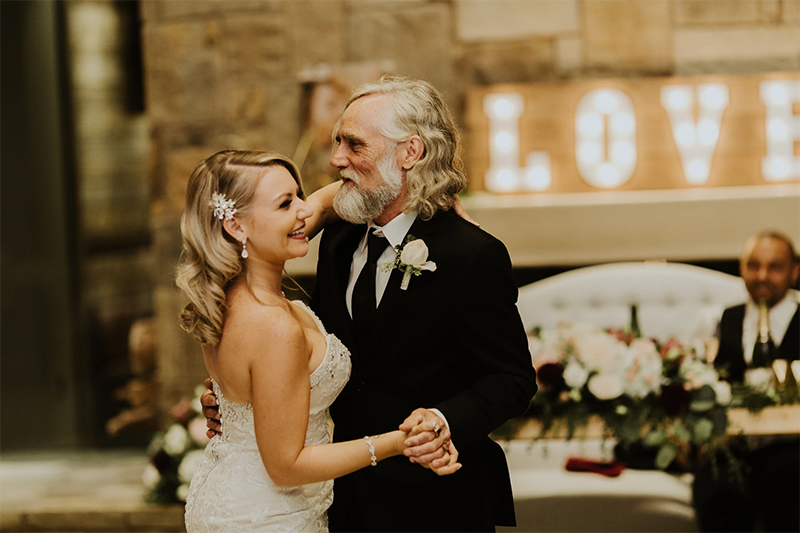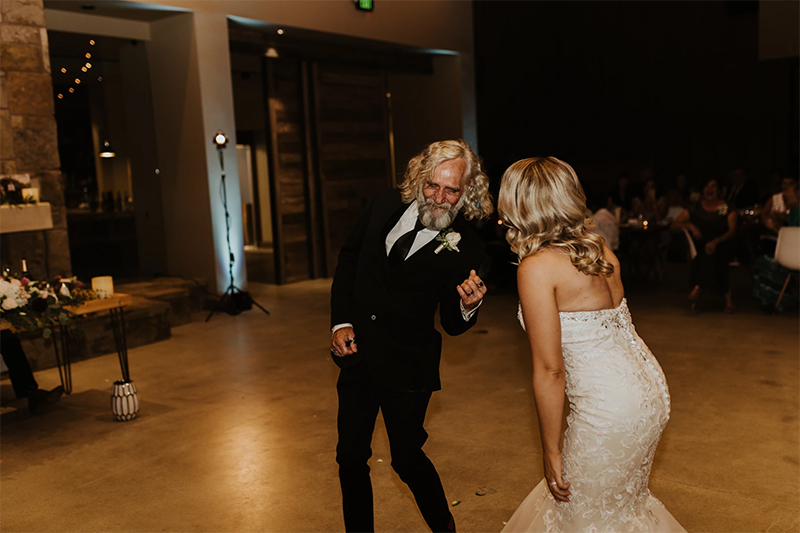 During the reception, we played the shoe game. I had seen this once at a wedding, and the guests really seemed to enjoy it. Our Maid of Honor + Best Man read the questions, and they did a damn good job at keeping everyone laughing.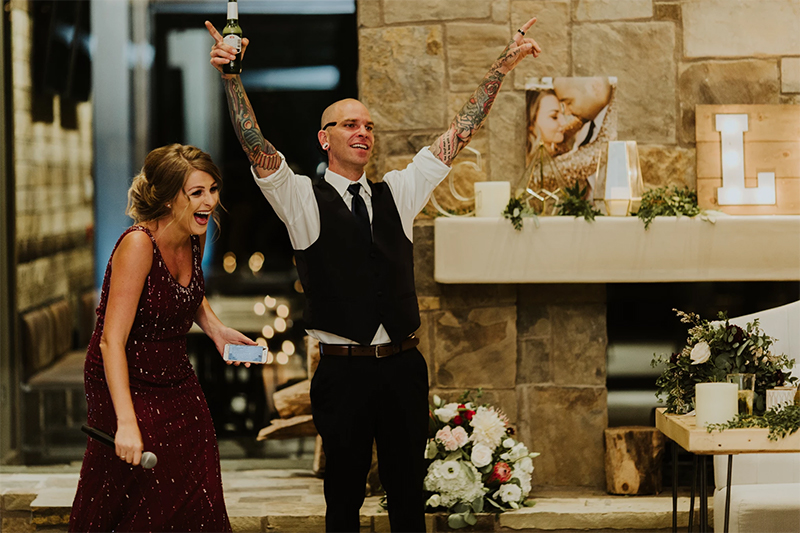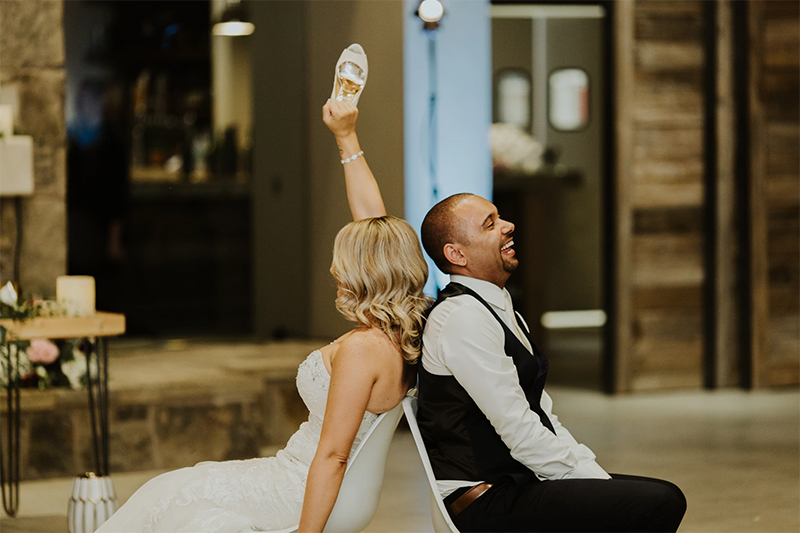 We cut the cake, tossed the bouquet and garter, took way too many photo booth photos, and a few too many fireball shots. It was the happiest day of my life. Can I honestly say that I would not change anything? No. There are one or two things that I would have changed. But in the grand scheme of things, they are small and insignificant.
Planning a wedding is hard, and it truly tests your relationship. You will argue over things that don't matter like cake flavors or whether the invitations should be letterpress or not. In the end, all that matters is that you are married. I may have lost sight of that a time or two, overwhelmed with all of the pressure. Most of which I put on myself. But today, I am married. I am Mrs. Carter. A title that makes me so dang proud and ridiculously happy.
So what's the moral of the story? Don't stress? It'll all work out in the end? I guess so!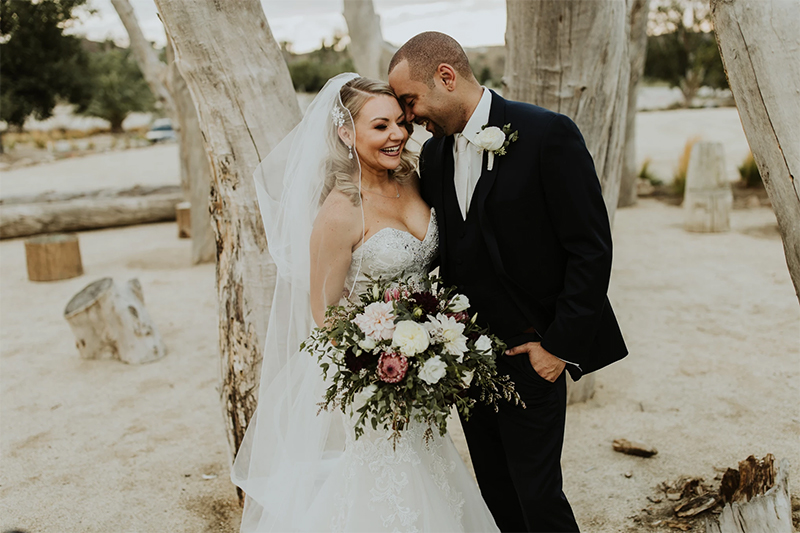 If you'd like to see more of our wedding photos, or our amazing video, click here.
xo,
Mrs. Carter